Meet the wolf pack team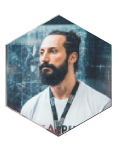 Marlon Georgiou
Co-Owner / Head Coach
Marlon Georgiou has been professionally involved within the fitness industry since 2007 when he qualified as a Personal Trainer.
Marlon took a leap of faith and moved to Dubai to work as a free lance coach meeting and training people from all walks of life.
Marlon travelled back and forth to the UK learning new skills and to further his knowledge as a Coach.
Marlon was looking for a training method that truly encompassed every aspect of fitness and when found CrossFit has never looked back.
In 2011 Marlon moved back to London to feed his own passion for CrossFit and has partaken in many CrossFit Training Camps/Seminars.
Marlon strongly believes that in todays ever evolving fitness industry it is important to continue his education, to continually learn and further his knowledge, increasing his skills as a Coach, to pass his learning's onto you.
Qualifications

Marlon is a firm believer in the MCI
(Mechanics, Consistency, and Intensity) rule which is the foundation of his teachings.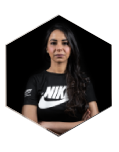 Karima Georgiou
Co-Owner / Manager
Karima's background as a manager stems from working with the worlds leading airline Emirates for over 6 years within an international team.
Karima is a strong team player and knows the fundamentals needed to lead a successful team from maintenance to front of house. Karima's skills are ideal to operate and manage a successful CrossFit Box.
Karima knows that a successful manager involves leadership, motivation, positivity, the ability to listen to her team, the ability to observe and act accordingly.
Karima's skill set is why her role as Manager, is the back bone and foundation of CrossFit Nice.
The Correlation between Work and Play!
Karima, now an avid CrossFitter, believes that CrossFit is a way of life.
Karima has always been active but like most had a love hate relationship when it came to training. The gym had been a scape goat, a place to visit to burn off steam, a place to get away and would always fall in out of passion with training.
Until, she came across CrossFit! Karima instantly clicked with the spirit and camaraderie of CrossFit, the competitive atmosphere that pushes her to those limits of success.
Karima now, CrossFit's not to get away from everyday life but to improve everyday life and is why CrossFit is now a place to work and train, laugh and shout, motivate and guide, inspire and excel.